I know. I always give the photos to you, gentle readers, to caption... today that's a bit different. Here are some captions of Ms. Couric.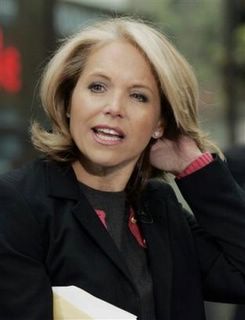 I feel pretty, oh so pretty... I feel pretty.
*high pitched voice* What? What is this breathing thing you are talking about?
Yeah... the scientists on the mother ship said the wound will heal. No one should notice the implant and receiver in the back of my head.
And a one... and a two... step to the left... good! Step to the right! Ladies, God wouldn't have given you maracas if He didn't want you to SHAKE 'EM!!!!!!
After this broadcast, Al Roker and I are going into the trailer. Make sure we aren't disturbed, m'kay?
Life has been SOOOOO much better since the team gave me my own on/off switch.
Can you tell if that Clairol Hydrience color worked? It works for Heather Locklear and I'm twice as cute as she is!